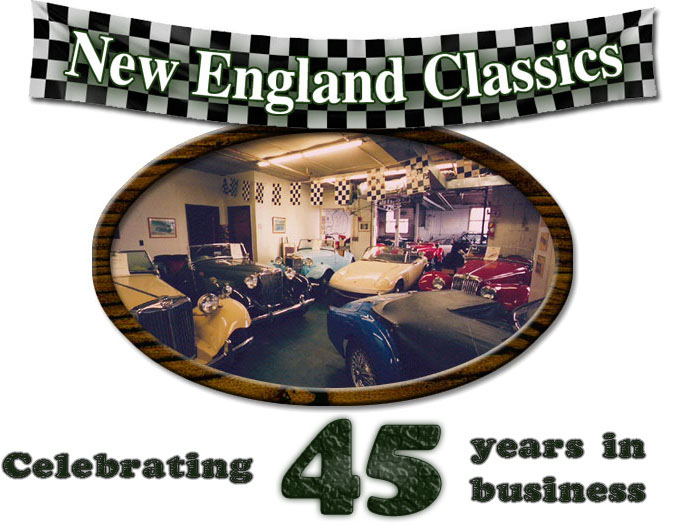 Welcome to the New England Classic Car Company!


For 46 years, we have been dealing in classic sports, vintage and historic racing cars with sales throughout the United States, Canada, and the world. Either via our online site or visiting our showroom one hour from New York City, we can offer a wonderful variety of collectible and VERY usable cars capable of giving many years of sheer enjoyment.
Although we have and will continue to sell a variety of classic sports cars, we generally concentrate on five marques...Triumph, MG, Lotus, Austin Healey, and Morgan. All cars we happen to enjoy and the cars we feel offer the best value in today's classic market.
So from under $10,000 Sprites and MGBs through TR6s, TR4s, MG TDs, TR3s and MGAs (as prices move through the teens, 20s, and 30s), Lotus Elans, MG TFs, Healey 100s and 3,000s, MG TCs, Morgans, Lotus 7s and others (winding their way towards $40,000 and beyond), we have a wide variety of great cars at reasonable and realistic prices.
As you can see in our 'services' page, we offer complete service and restoration work, modifications and accessories, race preparation, storage, transport throughout the world, financing, even free advice. We are bona fide enthusiasts with decades of personal experience with every kind of car we sell. Both on and off the track.
We are always interested in discussing trades (up, down, or even), we can store purchases (at no charge) 'till the buyer is ready for delivery, and we have an effective means for selling owner's cars via our consignment program. Call and we can go over details.
AND if you have an interesting sports car for sale, please call.
AND SPECIAL NEWS: August 2020 was our busiest month in 46 years of continuous business. And June of 2020 was our second busiest month. And in the midst of a pandemic? I am asked 'why' and it is just my guess.......IF your company now has you work from home, what a fun hobby to 'tinker' wiht your classic. And, even better, what a wonderful way of practicing social distancing, driving your classic and having fun. And, in the end, isn't that what is all about?
Get started right away by checking out our Online Showroom, or come see the fun WE have with our classic cars on the Vintage Racing section.